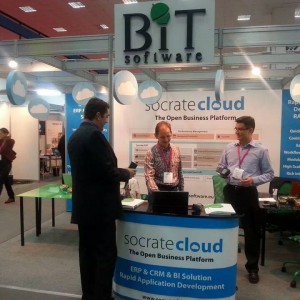 This is the 2rd year in a row that Wisoft Professional Services participates at Internet & Mobile World, the largest B2B expo-conference presenting IT, digital, marketing, e-commerce and mobile solutions. For two days, the Central Pavilion at Romexpo will be the main focus for over 7000 participants.
Don't miss out our "SocrateCloud for Distribution or How to choose wisely in order to grow your distribution business" presentation, which will take place on October 7th, 12:15 – 12:45 on the Business Software Stage.
Visit us on October 7 and 8, at Romexpo Central Pavilion, Booth B11, to find out more about our complete range of solutions:
WiData – the only cloud service for data collection that can be accessed from any mobile device that has a telnet client and an Internet connection.
FluxVision – the solution combines the features of cloud platforms with complex yet flexible algorithms that are using in real-time all the available data gathered from mobile devices in order to control and optimize all the activities in the warehouse.
WiSi – a platform designed to interconnect storage facilities anywhere.
We will be accompanied at Booth B11 our partner BITSoftware having business solutions.
If you want to set a meeting with us during the IMWorld 2015 event, just email us at info@wips.ro .
Click here to find more information about our solutions.
We're happy to meet you at IMWorld 2015!